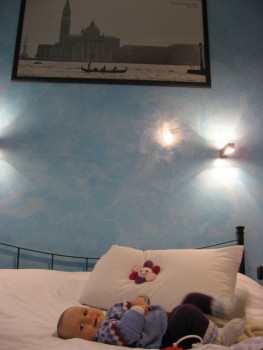 Domus amoR Colosseo B&B is situated right beside the Colle Oppio Park, which is beautifully placed in front of the Colosseum. Rome was founded on seven hills, and the B&B lies on one of them, the biggest called Esquiline Hill, facing another, Celio Hill. 
 
Situated within walking distance of several of Rome's main attractions, this area is central and offers plenty of restaurants and a great nightlife. Pubs with live music and the seasonal jazz festival www.villacelimontanajazz.com are all part of the unique atmosphere.
 
The B&B is children friendly, is available for families with new born or babies a set composed of a camping Cot, highchair and Baby Bjorn.
A PC is available to guests in the common space with broadband connection and there is also the wi-fi connectivity to the rest of the apartment (all free).

My name is Carlo, I come from Rome and I have run the business Domus amoR Bed & Breakfast and apartments since 2000. My associates and I look forward to welcoming you and we will do our best to make your visit in Rome a memorable one.